Welcome to Wish List Live!
Wish List Live is a great way to share your ideas for the perfect present!
Unlike other wishlist services, Wish List Live allows you to suggest ideas to your friends for gifts for other friends, even if they don't have a Wish List Live account yet. This is great for getting suggestions for gifts for that special someone that doesn't use the computer!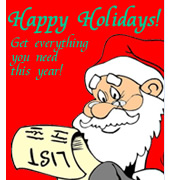 Please, note: Wish List Live does not sell items, it merely lets you create lists of items that your friends and family can buy at real stores or stores online.